Finance Minister Nirmala Sitharaman has announced a number of new schemes and initiatives for Jammu & Kashmir. J&K Tejaswini Scheme under Mission Youth and Hausla Scheme by J&K Trade Promotion Organisation have been launched for women empowerment. Both these schemes would be implemented by J&K Bank. In addition to this, two other schemes namely Shikhar Scheme, Shikara Scheme have been launched by FM Nirmala Sitharaman. PNB Bank, India will implement these schemes. In this article, we will tell you about the details of these 4 schemes.
On 23 November 2021, FM launches Tejasvini and Hausala schemes of J&K Bank, Shikhar and Shikara schemes of Punjab National Bank (PNB) and SIDBI cluster development fund for Rs. 200 crore, check details here.
J&K Tejaswini Scheme 2021 under Mission Youth
Smt @nsitharaman launches Tejaswini Scheme during the credit outreach programme in Jammu. The scheme aims to give financial assistance up to Rs 5 lakh to young women for setting up gainful self-employment ventures, suited to their skills, aptitude & local conditions. Tejasvini scheme focuses on providing financial assistance of Rs. 5 lakh to girls between 18-35 years for starting their business.
J&K Hausla Scheme 2021 for Women Entrepreneurs
Smt @nsitharaman also launches Hausla Scheme under the J&K Trade Promotion Organisation for empowering existing women entrepreneurs to be role-models in their respective sectors. It not only provides skill development, but also credit support, marketing support & mentorship.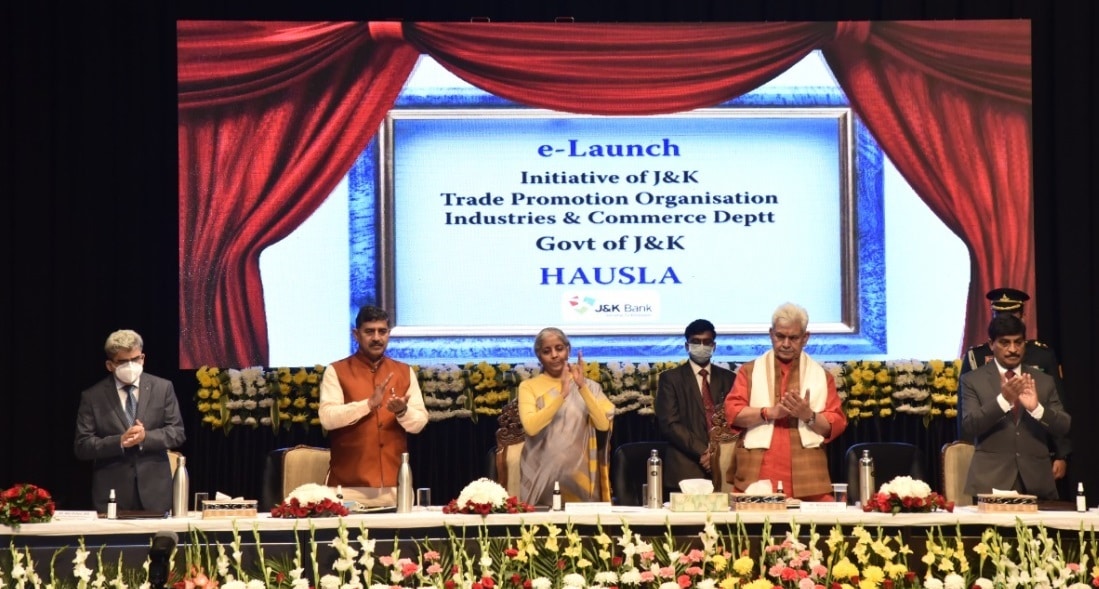 J&K Shikara Scheme by PNB India
Smt @nsitharaman launches @pnbindia's special scheme 'Shikara' which aims to provide finance for the purchase of new shikara and repair & maintenance of shikara and houseboats through collateral-free term loans with convenient repayment under EMI mode in seven years.
Under Shikara scheme credit up to Rs. 15 lakh for purchase/repair of Shikaras is provided in Kashmir valley.
J&K Shikhar Scheme
Shikhar scheme focuses on meeting credit requirements up to Rs. 2 crore for hotel, tour & tourism industry.
Jammu & Kashmir Government Schemes 2021Jammu and Kashmir Government Scheme HindiPopular Schemes in Jammu & Kashmir:J&K Domicile Certificate Apply Online Form 2021Jammu Kashmir Ration Card ListJammu and Kashmir CEO Voter List / Download J&K Voters ID Card
Finance Minister Nirmala Sitharaman on 23 November 2021 (Tuesday) handed over sanction letters to 145 beneficiaries for Rs. 306 crore of different banks which included sanction letters to different credit-linked schemes like Pradhan Mantri Employment Generation Programme (PMEGP), MUDRA Scheme, Self-Help Groups (SHGs), Joint-Liability Groups (JLGs) etc.
Source / Reference Link: https://pib.gov.in/PressReleaseIframePage.aspx?PRID=1774240