Ministry of Electronics and Information Technology (MeitY) has launched Digital India Internship Scheme. Under this skill development initiative, govt. will provide Rs. 10,000 per month as stipend to youngsters. Central Government will select 25 students for each session – summer and winter and will offer renumeration per month to youths / interns. Interested candidates can apply online for the internship at meity.gov.in/digital-india-internship-scheme-2021. The internship will be offered at New Delhi.
The primary objective is to provide skill development opportunity to get first hand and practical work experience which will count for the whole life. Govt. will provide this summer internship under the guidance of a mentor. Digital India Internship Scheme 2021 is a major step towards the realization of transformative initiative of Digital India.
This scheme will ensure learning of students and will provide exposure to the students about technology policy and decision making of Indian government. All the interested and eligible candidates can fill the online application forms for summer training.
Digital India Internship Scheme Online Application Form 2021
Below is the complete procedure to apply online for internship:-
STEP 1: Firstly visit the official website https://www.meity.gov.in/digital-india-internship-scheme-2021
STEP 2: On the homepage, click at the "Apply for Internship" link which will take the candidate to an external website.
STEP 3: Here click at the "Register Yourself" link and then the Internship Scheme Online Registration Form will appear as follows:-
Central Government Schemes 2021central government scheme hindiPopular Schemes in Central:Pradhan Mantri Awas Yojana 2021PM Awas Yojana Gramin (PMAY-G)Narendra Modi Schemes List
STEP 4: Fill all the necessary details and click the "Submit" button to complete the Registration process.
STEP 5: Afterwards, candidates can click at the "Apply for Service" or "Login" and enter their username, password, captcha code and click at "Log In" button to make login.
STEP 6: After logging in, click at the "Apply for Services" and then click at "View Services". Finally click at "Apply" tab to complete the application process for this internship scheme.
Areas for Internship Slots
Microelectronics (1)
Nanotechnology (1)
System Electronics & Applications (1)
Medical Electronics (1)
Quantum Computing and Cryptography (1)
Blockchain Technology (1)
AI and Machine Learning (1)
Perception Engineering and Cognitive Science (1)
National Knowledge Network (1)
Next Generation Communication Technologies (1)
Quantum Communications (1)
Wi-Fi (1)
Cyber Law/ IT Act (4)
Digital Forensics (1)
Malware Analysis (2)
Cloud Security (1)
Multi-cloud/ Hybrid cloud and new trends in Cloud computing (1)
GIS – Decision support system for various Ministries/Departments (2)
Social Media Analysis (2)
Digilocker (2)
Digital Payments (3)
Digital Economy (2)
Language Technologies (2)
Digital Literacy (2)
Skill Development (Upskilling/Re-skilling) (2)
Mobile Governance (1)
Enterprise Architecture (1)
Impact Studies of Schemes in Electronics Manufacturing sector for policy decisions (2)
Development of Component Manufacturing in India with focus on Semiconductor FAB (1)
Development and mapping of Geographical Information System database to capture the Electronic Manufacturing ecosystem (clusters and companies) in India (1)
Software Product Promotion (1)
Multilateral Forum issues (1)
Accelerator (1)
Electronic Equipment Function Testing (1)
Electronic Equipment Safety Testing (1)
EMI / EMC Testing (1)
Eligibility Criteria for Digital India Internship Scheme 2021
The candidates must fulfill the following eligibility criteria to become eligible for Digital India Internship Scheme:-
Indian students from recognized universities in India who have secured at least 60% marks in the last held degree or certificate examination and pursuing B.E/ B.Tech, M.E/ M.Tech/ M.Sc.(Electronics)/MCA/ DoEACC "B" level/LL.B shall be eligible.
The students who are in the last semester or who will pass out in summer 2021 will not be eligible for the internship. Only students who are in the previous one year will be eligible. LL.B students would be considered for internship only in 'Cyber Law/ IT Act' area.
Possessing minimum qualifications as above shall not guarantee internship in this Ministry. Candidates having exposure in the area of intended internship with good academic background and having higher qualification, based on need shall be given preference.
Important Dates for Digital India Internship Scheme 2021
Candidates must remember all the dates while the online application form for this summer internship by MeitY. The important dates are shown in the figure below:-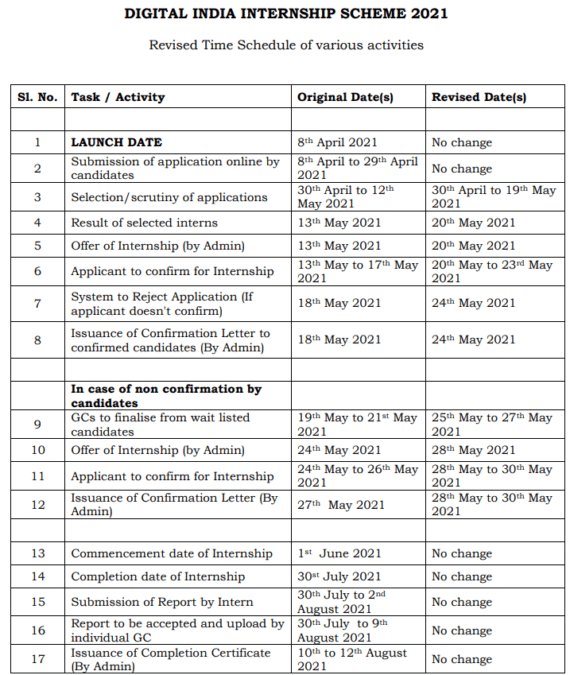 Selection & Placement under Internship Scheme
Selection – All the interns will get shortlisted / selected by the concerned organizations, groups or divisions in their respective domains. Interns shall have to clear a personal or Skype interview (if necessary). MeitY will not provide any TA / DA to the candidates for attending personal interview. Finally, the entire list consisting of the names of the selected candidates will get displayed on the portal.
Placement – Central govt. will assign a Scientific / Technical Project Supervisor or Mentor from the concerned ministry for each intern / batch. It must be noted that this internship does not assures or guarantee any employment within the government ministry.
Stipend & Certificate of Internship
Stipend – Each Intern will get Stipend of Rs. 10,000 per month on certification by Supervisor / Mentor. This stipend will be given on the completion of internship and final submission of report duly accepted by the ministry.
Internship Certificate – All the Interns will get the Internship Certificate on the completion of internship and final submission of report accepted by the concerned authority.
References
— For all other details, candidates can download the official notification in the PDF format through the link given here – https://www.meity.gov.in/writereaddata/files/internship-scheme-2021.pdf
— List of Selected Candidates – https://www.meity.gov.in/writereaddata/files/DIS-2021-Result.pdf